Frank Bruggeman i.s.m. Peter Zwaal, 26-09-2022
NL
UITSTAANDE MELDE
Als er één soort deze zomer buitengewoon succesvol was in De Nieuwe Tuin, dan is het wel uitstaande melde (Atriplex patula). Deze grijsgroene eenjarige houdt van een zanderige en stikstofrijke bodem en is een echte pioniersplant. Geen wonder dat de plant dan ook vooral opdook in die gedeelten van De Nieuwe Tuin die in 2021-2022 volledig op de schop zijn genomen. Uitstaande melde maakt – de naam zegt het al – sterke zijassen en vertakkingen waardoor de plant snel een struikachtige vorm aanneemt. De bladeren zijn verschillend van vorm: van spiesvormig met sterke zijlobben onder, tot lancet- vormig zonder zijlobben boven in de plant. De bloeiwijze is die van een "schijnaar" met bloemen in clusters/kluwens. Die bloemen, zowel mannelijke als vrouwelijke, zijn helaas bijzonder klein en onopvallend.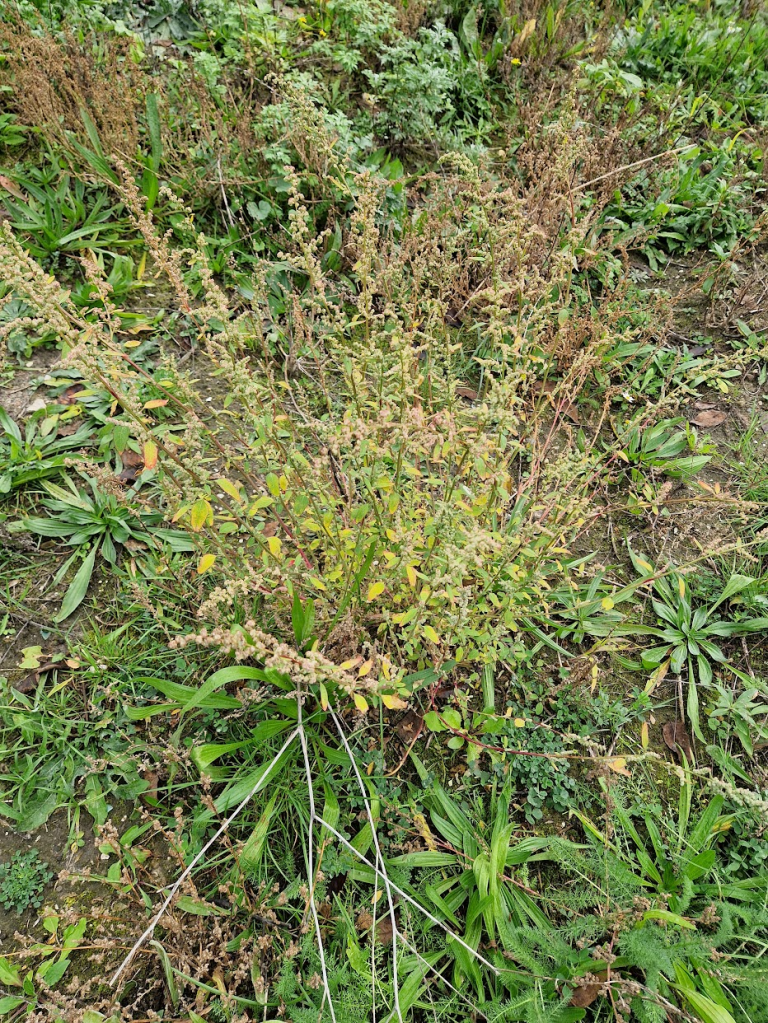 Om de dominantie van deze meldesoort een beetje in te tomen, is het zaak de planten weg te halen voordat ze in het zaad komen. Want de zaadproductie van melde is groot en het zaad blijft ook nog eens tot zes jaar lang kiemkrachtig. Hoewel de meeste pioniersplanten na verloop van tijd weggeconcurreerd worden door meer specialistische vegetatie, heeft lang niet iedere tuinliefhebber het geduld om daarop te wachten. Bovendien dient rekening te worden gehouden met de aantrekkelijkheid van De Nieuwe Tuin voor bezoekers. Vandaar dat ik de afgelopen twee weken flink wat uitstaande melde heb getrokken. Hoe dat uitpakt zullen we volgend jaar zien.
Waar de meeste tuiniers uitstaande melde liever kwijt dan rijk zijn, geldt dat niet voor de nauw verwante soort tuinmelde (Atriplex hortensis). Met zijn donkerrode bladeren kan deze meldesoort in een overwegend groene tuin voor een prachtig kleuraccent zorgen. Die donkerrode bladeren smaken ook nog eens lekker – een beetje als spinazie – zodat deze plant ook vaak in moestuinen wordt geteeld.

EN
SPEAR SALTBUSH
The most succesful plant species in The New Garden of 2022 is undoubtedly spear saltbush (Atriplex patula). This grey-green annual likes sandy and nitrogen-rich soil, and is a true pioneer plant. No wonder that the plant can mainly be found in those parts of The New Garden that were redesigned and overhauled in 2021-2022. The branches of spear saltbush are strongly stretching outwards from the stem, so the plant quickly takes on a shrub-like appearance. The leaves are different in shape: from skewer-shaped with strong side lobes at the bottom to lanceolate without any side lobes at the top of the plant. The inflorescence is that of a thyrse with flowers in clusters. Those flowers, both male and female, are unfortunately very small and inconspicuous.
To curb the dominance of spear saltbush, it is important to remove the plants before they go into seed. All the more so because seed production of spear saltbush is high and seeds stay viable for up to six years. Most pioneer plants are outcompeted by more specialized vegetation over time, but not every gardener has the patience to wait for that. Moreover, the attractiveness of The New Garden for visitors must be kept in mind. That is why in the past two weeks I have weeded a lot of spear saltbush. We'll see how this works out next year.
While most gardeners are rather keen on weeding spear saltbush, a closely related species of the same plant family is a true gardeners favorite. With its dark red leaves, garden orache (Atriplex hortensis) can provide a beautiful color accent in a predominantly green garden. Those dark red leaves also taste good – a bit like spinach – so this plant is also grown in vegetable gardens.